Social Emotional Skill-Building Activities to Help Young Kids Recognize Emotions and Express Feelings | Social-Emotional Learning You Can Do at Home
Created by child-development experts, this digital (aka no shipping!) version of our Time-In ToolKit® playfully teaches kids ages 2 to 7+ how to navigate big emotions through social-emotional skill-building games using their very own Calming Corner, which you can create using this digital set of downloads, posters, games, activities and more.
Our digital tools are unique from the tools in our physical toolkit to allow for at-home printing.
The Digital Calming Corner & Time-In ToolKit™ includes downloadable feelings posters, social-emotional learning activities, virtual affirmation cards, sing-a-long videos, and support resources you can print out to create a Calming Corner in your home or classroom.
Teach even the youngest of children how to recognize emotions, regulate their body, and express their feelings using this Digital ToolKit® and build vital social-emotional skills for a lifetime of health and wellbeing.
Our play-based tools for social-emotional learning are putting an end to punitive childrearing methods, including time-outs and spanking, around the world, now in more than 90 countries.
Available in English, Spanish, French, German, Arabic, and Chinese!
Money Back Guarantee
Created By Experts
Instant Access
What's Included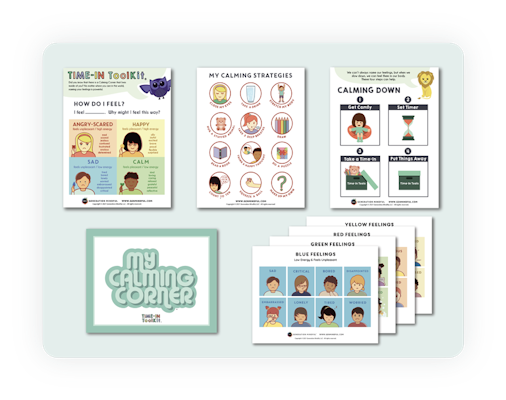 Calming Corner Posters
4 interactive feelings poster files to print and hang on your wall, or access on the go!
Fun animal friends guide children through playful learning about the four mood groups and how to calm their bodies.
Create a safe space for children (and adults!) to explore their emotions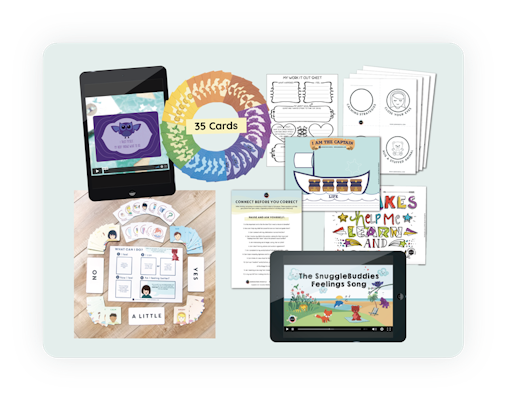 Time-In Activities & Games
"What Can I Do?" Activity Mat + 32 Feeling Faces Cards
PeaceMakers "Pick-A-Card" Game with 35 Affirmation Cards
My Feelings Sing-A-Long Video, Coloring Sheets, and more!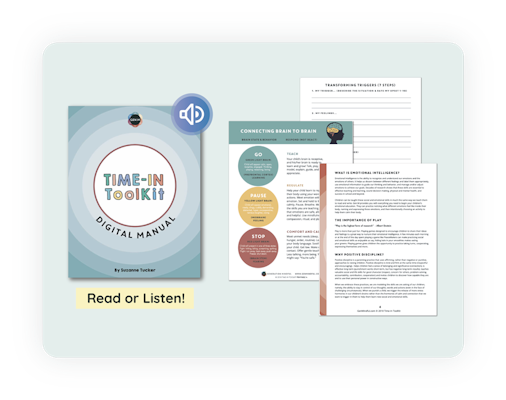 "Taking Time-Ins" Digital Manual & Audiobook
Learn how to effectively use Time-Ins and the science behind why they work!
Get step-by-step instructions on how to introduce Time-Ins to your kids (p.s. this matters!)
Includes bonus worksheets and printable activities.
Get instant access to materials after purchase
---
This product is digital, nothing is shipped
---
Activities designed by child-development experts
---
Available in English, Spanish, French, German, Arabic, and Chinese
---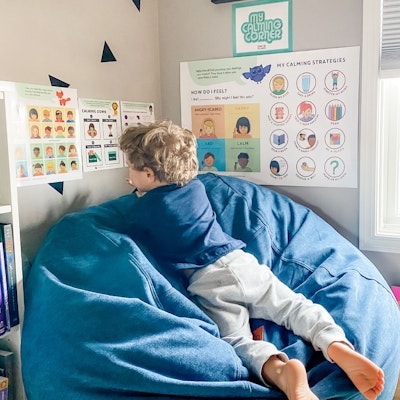 Trusted by 500,000+ parents & educators worldwide
Grow your child's emotional intelligence in daily, playful ways.
Take a Time-In instead of a Time-Out
Make connection & sharing feelings a habit
Find more joy and less stress in parenting
What Our Customers Are Saying
"This toolkit has given us visuals and language to support us in helping our son grow his emotional vocabulary. I have loved watching him start to choose new emotion cards as he identifies new emotions in his body and mind. My husband and I sometimes use the time-in ourselves when we are feeling overwhelmed or frustrated as parents. It has helped us identify our own emotions and begin to feel more calm, as well as set a good example for our 5-year-old son. "
— Linda Han
"Meltdown avoided tonight using some of the stuff I've been reading in the digital manua! GOLD! This is GOLD."
—
Together We Are Raising An Emotionally Healthy World