How to Teach Coping Skills to Stressed Out Students
Short on time but your students' social emotional and behavioral needs are high?
Learn practical tools to teach coping skills to students K-12 in just a few minutes a day with this online masterclass and playbook from Dr. Rebecca Branstetter of Thriving Students Collective.
Are you an educator, school psychologist or mental health professional who wants easy-to-use toolkit for teaching vital coping skills like growth mindset, managing anxiety, and emotional intelligence?
Are you tired of searching for resources to teach coping skills in a fun way and wish you had an all-in-one system instead of cobbling together resources from all over the place?
Do you feel crunched for time and need research-based, short, and easy-to-use toolkit of activities you could do with kids and teens TODAY?
You no longer have to search down a "Google rabbit hole" for practical ways to boost kids' coping skills!
This 10-module course is self-paced, with short, 20-minute videos, so you can come back again and again to help students with vital skills like growth mindset, self-compassion, resilience, and emotional regulation.
We offer group licenses so multiple staff members can each have their own login and materials. The curriculum works well for Tier 1 (classroom/school-wide lessons) and Tier 2, Tier 3 (individual, smaller group) school-based interventions. For group rates, please email support@genmindful.com.
1 Year Access for $299
Created By Experts
Money-Back Guarantee
What's Included In the Coping Skills Masterclass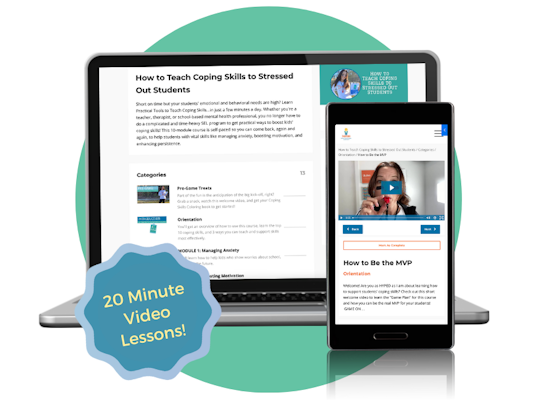 10 Online-Learning Modules for Coping Skills
Learn three critical mindset shifts that will help you teach and support coping skills more effectively .
Each module focuses on a different topic like managing anxiety, motivation, growth mindset, self-compassion, and more.
Each video module is about 20 minutes long...enough to enjoy over a cup of coffee! Includes kid-friendly definitions of each skill, research on how to build the skill, and a fun/practical tool you can download to teach the skill.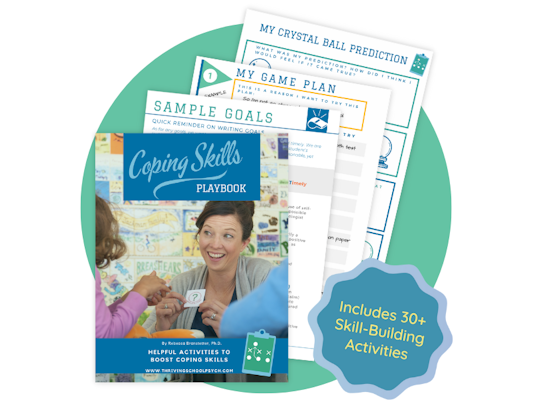 Downloadable Student "Playbook"
10 printable worksheets to teach these skills to kids
Activities are easy to teach and fun for students
Includes BONUS Coping Skills Coloring Book!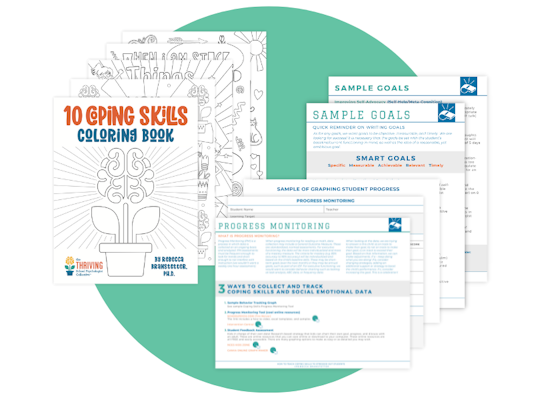 BONUS! Student Goals and Progress Monitoring Toolkit
10 sample goals that map onto each of the 10 skills in the course.
Multiple options for Progress Monitoring to track individual student progress toward their goals.
Simple ways to share data with parents, Multi-Tiered Systems of Support (MTSS) teams, and other key stakeholders in student progress.
10-module online course w/ short, 20 min. videos
---
Student "playbook" with 30+ printables on 10 coping skills
---
For grades K-12
---
1 year access & 1 email login with every purchase
---
Convenient mobile app for on-the-go learning
---
30-day money-back guarantee
---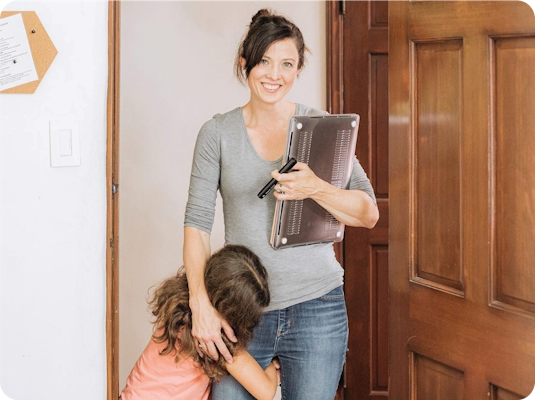 Dr. R has helped thousands of families worldwide
Meet Dr. Rebecca
I'm Dr. Rebecca Branstetter. As a school psychologist for 20+ years, author, and speaker, I'm a cheerleader for students who are going through tough times, and a coach to the adults who want to help our increasingly stressed out students.
I've worked with hundreds of students, teachers, parents, and fellow school psychologists to create this research-based "playbook" for boosting coping skills that foster resilience, because when students have coping skills, they are better equipped to experience success, enjoy school and become independent life-long learners.
I'm also a big fan of turning research into reality and making it FUN, because no matter how old we are, when learning coping skills is fun, we learn more. So let's have some fun! I can't wait to see you inside the course and coach you on how to up your teaching coping skills game.
What Our Customers Are Saying
"The delivery of this course was awesome. Dr. Branstetter is so funny and I love the rhymes, puns, and themes. Not only is the information valuable, but the way it's delivered really makes it stick in my brain."
— Kelsey T.
"This course has energized our whole teaching staff! So many good practical strategies for both "littles" and "bigs" as well as good reminders of how what we already know can be applied to our day-to-day interactions with our students. "
— Robert C.
Together We Are Raising An Emotionally Healthy World