Orange Fox SnuggleBuddies Emotions Plush
Help Kids Snuggle Up To Their Feelings With SnuggleBuddies!
Orange Fox reminds us to be silly...and to enjoy all the fun this life has to offer! Orange Fox is one of seven PeaceMaker Pals in the SnuggleBuddies collection, helping children around the world learn to name and regulate their feelings. Each PeaceMaker Pal brings a different peace-making power we all have inside us to life!
The four "storyteller" mood emojis that live inside each SnuggleBuddy teach children the four main mood groups (Happy, Sad, Calm, Mad) and help them to share how they are feeling in daily, playful ways as well as during tantrums, meltdowns, or moments of frustration.
With over 6 ways to play, each SnuggleBuddies Plush comes with our SnuggleBuddies Feelings Sing-a-long Video and laminated Feelings Journal to help make mindfulness and noticing our feelings a daily habit!
Money-Back Guarantee
Created By Experts
Free Shipping $50+
What's Included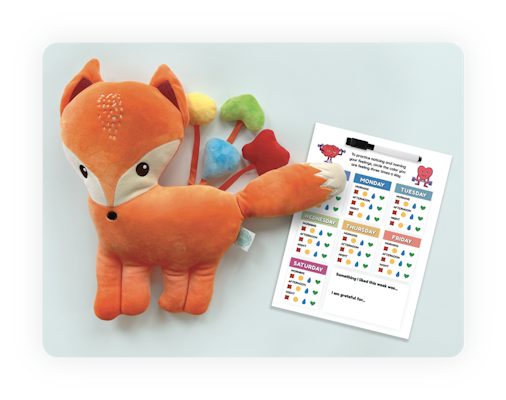 Orange Fox Plush & Feelings Journal
Perfect for play & reinforces communication as safe and fun!
Super-soft mood emojis help non-verbal and overwhelmed kiddos share their feelings.
Laminated feelings journal makes checking in with our emotions a habit.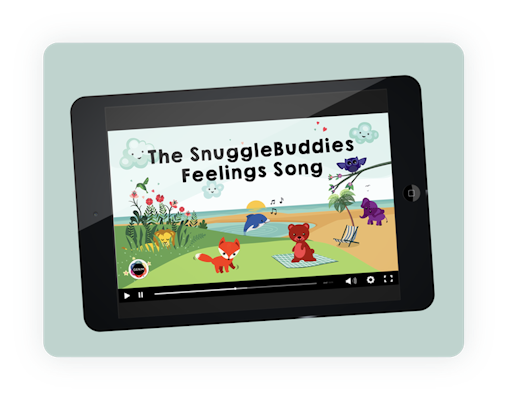 SnuggleBuddies Sing-A-Long Video
Illustrated sing-a-long video makes exploring our emotions fun!
Great for classrooms and morning circles
Available in 7 languages including english, spanish, german, french, mandarin, korean, and arabic.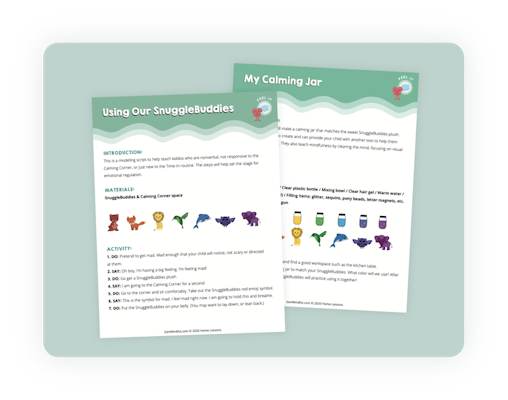 Downloadable Activities
Introduce your child's SnuggleBuddy with fun activities you do together!
Created by child-development experts to nurture emotional intelligence through play
Your resources are emailed and saved to your GENM account for easy access on the go.
Machine washable, air dry
---
Super-soft, Minky (aka awesome to snuggle) Fabric
---
Stuffed with hypoallergenic fiberfill
---
100% Polyester material
---
Size: 15" H x 16" W
---
Silky ribbons secure mood emojis to each plush
---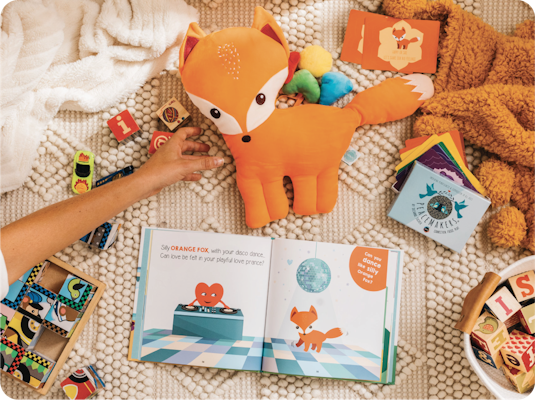 Trusted By Parents & Educators Worldwide
Support Your Child's Emotional Growth Through Fun Daily Practices!
Sing along to the SnuggleBuddies Feelings Song
Create a SnuggleBuddies Bedtime Ritual
Use in your Calming Corner during Time-Ins
Connect in the midst of a tantrum or meltdown
What Our Customers Are Saying
"Velvety Soft, Irresistibly huggable! What a fabulous learning tool disguised as a functional and oh so huggable toy. My son simply adores his SnuggleBuddy and quickly understood the attached 'feelings emojis'. We used it to navigate our way through a recent emotional episode. It was easy, non-confrontational and actually enjoyable! Thank you!"
— Melissa
"I need another! I got my SnuggleBuddy for work (I'm a school psychologist) and my five-year-old fell in love with it…so it has become hers! She also loves the feelings journal! Thanks for what you are doing. It's amazing work!"
— Elizabeth
Together We Are Raising An Emotionally Healthy World