Classroom Toolkit for Social-Emotional Learning
GENM's social-emotional learning (SEL) tools take a positive, relationship-based approach to nurturing emotional intelligence in the classroom. Our child-centered tools teach vital social-emotional skills for a lifetime of success and well-being.
For outcome data on the effectiveness of these tools, please reference the MO Institute of Mental Health's 2020 findings; 135 families.
The US Military Family Support Services Program is running a pilot program with deploying families raising young children. Findings will be shared here in the Fall/Winter '23/'24.
This Classroom ToolKit includes:
Our Best-selling Time-In ToolKit®
Heart SnuggleBuddies Emotions Plush & Heart's Treasure Hunt Children's Book
8 Printable Time-In Activity Books with 112+ printable SEL activities
CASEL SEL Standards-Aligned Lesson Plans for PreK to 2nd Grade
Feelings Bingo (PDF)
x7 Mindfulness Meditations for Kids (Digital Audio Files)
CASEL Aligned Lesson Plans
Inclusive and easy-to-share lessons broken down into three simple skill sets:
Name It (Recognize), Feel It (Regulate), Heal It (Repair + Restore).
Money-Back Guarantee
Created By Educators & Therapists
Free US Shipping
What's Included In Your Classroom Time-In ToolKit®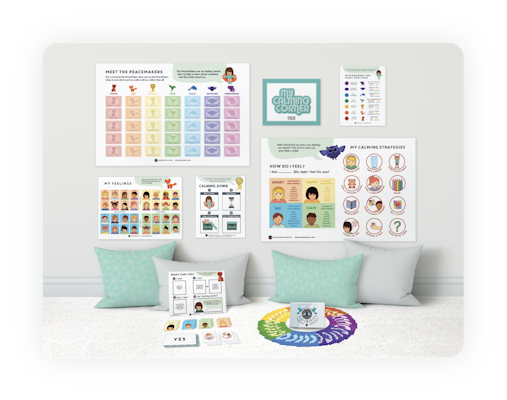 Tools for Your Calming Corner:
Calming Corner Poster Set with 6 interactive feelings posters
Time-In Activity Mat & Feelings Cards to help children playfully process emotions and practice calming strategies
PeaceMakers Affirmation Cards for kids, with 35 affirming mantras from 7 peace-making animal friends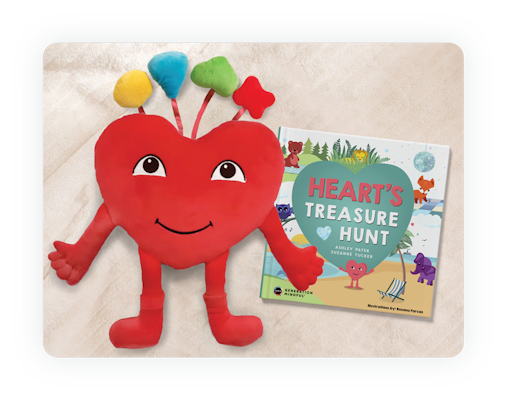 Heart SnuggleBuddies™ Emotions Plush & Book
4 color-coded mood emojis teach kids the 4 main mood groups (Happy, Sad, Calm, Mad/Scared)
Create a daily ritual of sharing when you felt happy, sad, calm, and mad/scared that day.
28-page hardcover book that playfully explores the many emotions we all feel everyday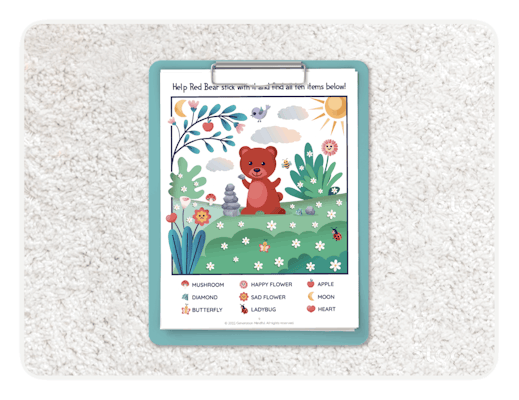 Time-In Activity Book Series (8 PDF Books)
100+ short stories, coloring sheets, and skill-building games kids adore
These beautifully illustrated activities motivate children to practice essential social-emotional skills.
Includes 6+ adult activities to deepen your social-emotional learning as well.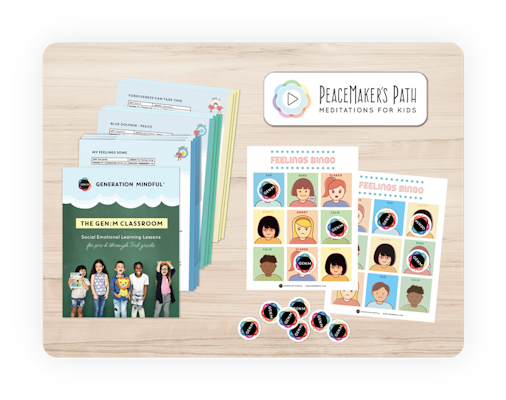 Digital Social-Emotional Learning Activities & Games
24 standards-aligned, easy-to-use lesson plans for SEL
7 fun, storytime meditations to help children calm their bodies, hearts, and minds.
Printable Feelings Bingo game with 20 unique cards
6 High-quality Calming Corner Posters (2) 20"x30", (1) 12"x16", (3) 8"x10"
---
PeaceMakers card deck w/ sturdy storage box (42 cards)
---
Laminated Activity Mat - 8x10" w/ 2 sets feeling faces cards
---
Plush: 14" H x 14" W - Machine washable, air dry
---
High-Quality, 28-Page Hardcover Book 10"x10"
---
8 Printable PDF Activity Books (112+ activities)
---
20+ standards-aligned lesson plans (PDF)
---
7 interactive, storytime meditations for kids
---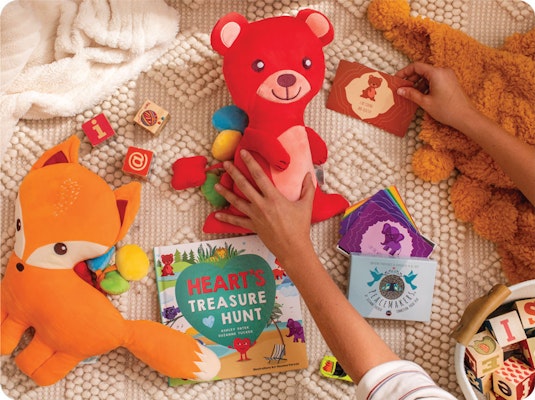 Trusted by 500,000+ parents & educators worldwide
Strengthen Social-Emotional Skills in Micro-Moments and Class Activities
Created by diverse team of child development experts for educators and caregivers alike
Centers on age appropriate, play-based learning to build social-emotional skills
Improves school readiness skills and positive behavioral characteristics
Together We Are Raising An Emotionally Healthy World