Let's snuggle up to our feelings and discover where love truly lives!
This special bundle includes all seven SnuggleBuddies Emotion Plushes, plus our Heart's Treasure Hunt children's book, where our friend Heart goes on an adventure with the SnuggleBuddies to find "where love lives." The answer might just surprise you!
Our minky-soft SnuggleBuddies help children name and regulate their emotions with four mood emojis that live inside each plush character. This set also comes with our SnuggleBuddies Feelings Sing-a-long video and x7 Feelings Journals to help make mindfulness and noticing our feelings a daily habit!
Money Back Guarantee
Created By Experts
Free US Shipping $50+
Machine washable, air dry
---
Super-soft, Minky (aka awesome to snuggle) Fabric
---
Stuffed with hypoallergenic fiberfill
---
100% Polyester material
---
13" H, width varies by SnuggleBuddy
---
Silky ribbons secure mood emojis to each plush.
---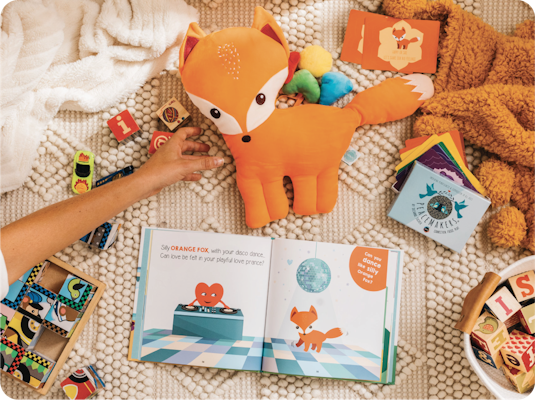 Trusted by 500,000+ Parents and Educators in 90+ Countries
Make learning about emotions a fun, daily ritual at home or school!
Sing along to the SnuggleBuddies Feelings Song
Create a SnuggleBuddies Bedtime Ritual
Use in your Calming Corner during Time-Ins
Connect in the midst of a tantrum or meltdown
What Our Customers Are Saying
"Velvety Soft, Irresistibly huggable! What a fabulous learning tool disguised as a functional and oh so huggable toy. My son simply adores his SnuggleBuddy and quickly understood the attached 'feelings emojis'. We used it to navigate our way through a recent emotional episode. It was easy, non-confrontational and actually enjoyable! Thank you!"
— Melissa
"I need another! I got my SnuggleBuddy for work (I'm a school psychologist) and my five-year-old fell in love with it…so it has become hers! She also loves the feelings journal! Thanks for what you are doing. It's amazing work!"
— Elizabeth
Together We Are Raising An Emotionally Healthy World