Parents Play Guidebook: 10 Minutes of Play for 10 Days
Increase positive behavior in your child in just 10 minutes of play a day!
Does your child demonstrate attention-seeking behavior?
Do you often run out of ideas on activities to do with your child?
Does your child have an active imagination that you can't always keep up with?
Do you ever feel guilty you are not able to spend enough time with your child?
Learn 10 simple and fun improv games to help you connect with your child, decrease attention-seeking behavior, grow your child's confidence and imagination, and add laughter and joy to every day!
This interactive guidebook helps parents strengthen their child's social-emotional skills in just 10 days through fun improv games that require no additional materials.
This is a digital product. Nothing will be shipped.
Money-Back Guarantee
Created By Experts
Instant Access
Use the games in this book to learn new ideas, expand your imagination as a parent, and spend quality time playing with your child!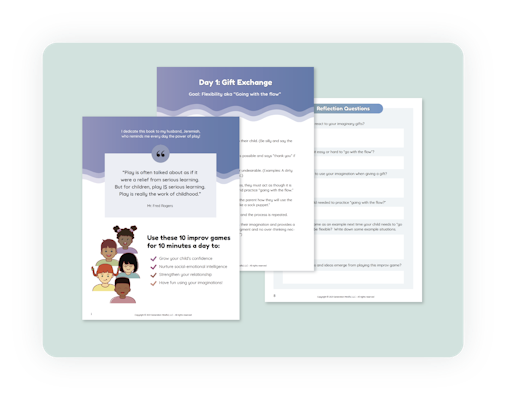 This Guidebook Includes:
10 social-emotional skill building games you can play with your child
Reflection questions for each game to ask yourself and your child
Journal sections to track your reflections and experiences
For parents of ages 4-12+
---
Interactive PDF - Printable 8.5x11"
---
Includes interactive digital journal prompts
---
Single license purchase - to be used by purchaser only
---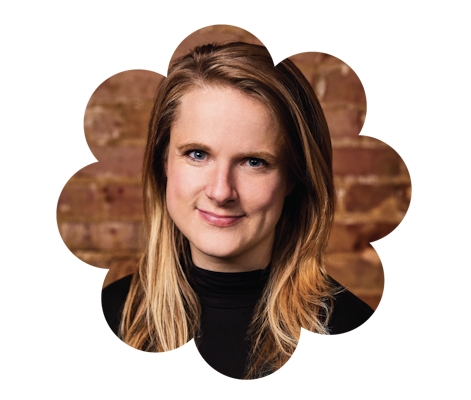 Maja Watkins, Comedian & Social-Emotional Learning Expert
About Maja Watkins
Maja is a mother, author, teacher, and founder living in Los Angeles, Ca. Through her work with children in various settings, and her experience growing up with a brother on the autism spectrum, Maja has developed an understanding of how powerful communication is for all people. Maja is the author of The Brain's Playground: Using Improv Games To Teach Social and Emotional Learning as well as the author of a parenting guidebook titled: 10 Minutes of Play for 10 Days.
Maja holds a degree in Child Development and is also a graduate of The Second City in Hollywood where she studied improvisation and sketch comedy. Maja works as a Social and Emotional Learning Specialist and creates inclusive opportunities where the curriculum is designed to allow children and young adults to reach their highest potential in whichever way they feel most comfortable.
What Our Customers Are Saying
"Great for my pre-school class! So easy to set up and play. My class of four/five-year-olds has been playing this every Friday now for a month and they are loving it. Learning so much. I'll have to send in a video. It's pretty darn cute."
— Sarah E., Verified Buyer
"Genius! My 4 year old loves this game and I've definitely noticed him sharing how he feels more because he's used to seeing the emotions when we play the game. Thank you for creating this!"
— Christina M.
Together We Are Raising An Emotionally Healthy World