PeaceMakers Affirmation Cards
Make Connection and Conversation a Habit with Fun Daily Affirmations
PeaceMakers help children and adults connect in daily, playful ways around the things that matter most: our ideas and our feelings! Each card delivers a unique, affirming message designed to nurture emotional intelligence including self-love, social skills, a growth mindset, confidence, and more.

The affirmation cards introduce children to our PeaceMaker Pals Red Bear, Orange Fox, Yellow Lion, Green Hummingbird, Blue Dolphin, Indigo Owl, and Violet Elephant, each of whom represents a core life theme of power, joy, balance, love, peace, intuition, and forgiveness.
A PeaceMakers Mindful Affirmations Card Deck is also included in our best-selling Time-In ToolKit®.
Money Back Guarantee
Developed By Experts
Free US Shipping $50+
What's Included With Your PeaceMakers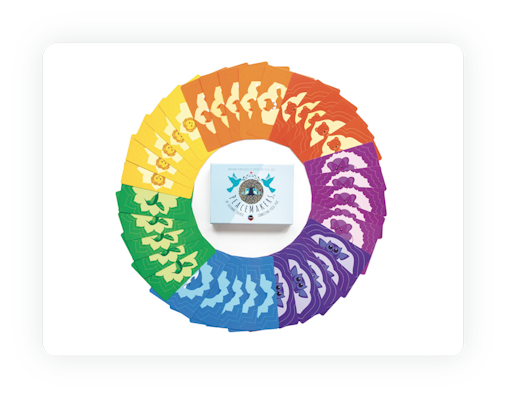 35 Affirmation Cards
Simple, affirming messages that inspire resilience and confidence in ways kids understand.
Featuring 7 animal pals your children will fall in love with.
Deepen your relationship with your children through daily sharing & play.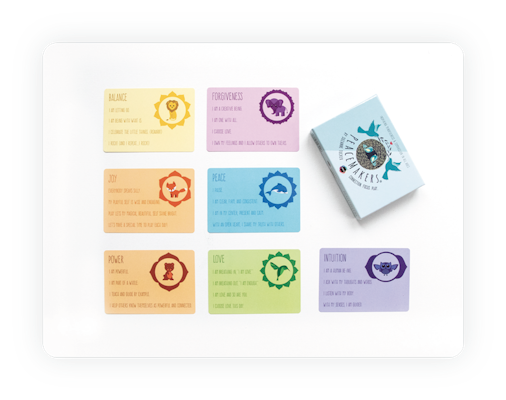 7 Theme Cards
Have your child match their card to the theme.
Use these cards to lead and guide by example, especially in times of stress.
Mini deck, ideal for teens, parents, educators and more.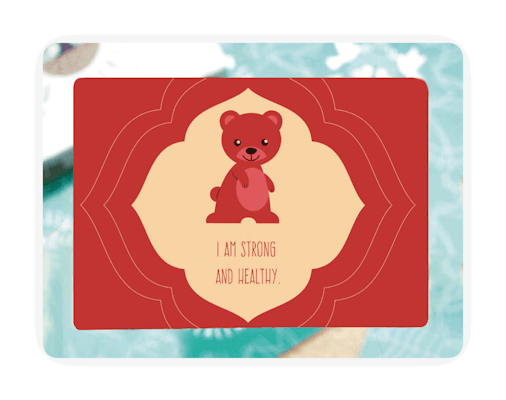 Digital Pick-A-Card Game (Add-On Option)
Great for travel, or when you leave your cards at home!
Project onto a screen for large groups.
Available in 7 languages including english, spanish, french, german, mandarin, korean, and arabic.
For Ages 3+ in home, classroom, or therapy settings
---
Thoughtfully crafted by earth-lovers
---
High-quality, film-coated cards 3.5"x5"
---
Sturdy, chipboard storage box 5.5"x 4"x 1"
---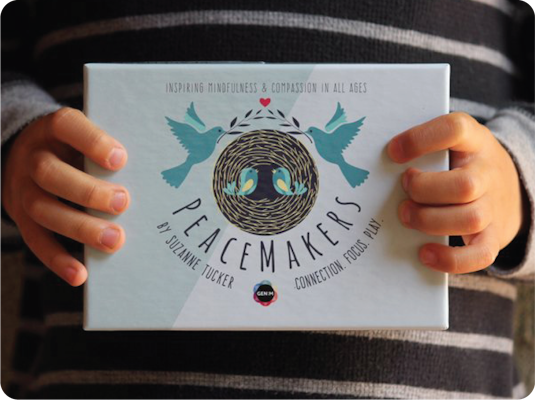 Loved by Parents & Educators Worldwide!
Discover 7 Peace-Making Powers We All Have Inside Ourselves
Create daily rituals of choosing a card and sharing your feelings.
Use as a connection tool during Time-Ins & high-stress moments.
Play PeaceMakers Go Fish, Old Maid, Snap or more!
What Our Customers Are Saying
"Our family loves the Affirmation Cards! Most recently my girls and I have been choosing a card, and using it as our "cool down" mantra for the day when things get overwhelming. It has been working wonders! It brings me to tears to see how empowered my girls feel using these phrases."
— Sarah, Verified Buyer
"A great way to connect! We have been using the Peacemaker cards regularly at the dinner table. The songs and conversations that these little gems spur are priceless and are integral in growing a deep and meaningful connection with our 'littles'."
— Suzanne, Verified Buyer
Together We Are Raising An Emotionally Healthy World