Teach Kids About Emotions
Free Social-Emotional Learning Resources For Families at Home
---
Stay home, be safe, and thank you for bringing these tools to children.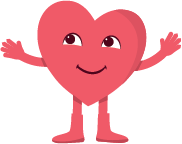 ---
FREE Storytime video! Nurture Emotional Strength and Resilience in Children
Join the founder of Generation Mindful for storytime, nurturing emotional strength and resilience in ages 2 to 7+.
In this playful, get-up-and-move story, our friend Heart wants to know, "Where does LOVE live?!", and the answer we discover at the end just might surprise

you

!
FREE Printable Flipbook About Coronavirus and Things Kids CAN Do!

"Loving Our Way Through" helps young children feel safe, powerful, and informed.
In a time when our world feels "different", this flipbook helps children answer some of the big questions they have on social distancing, and more, bringing comfort, clarity and calm.
---
Just print, assemble and enjoy!