Make learning about emotions FUN with skill-building games, stories, and more.
Join Indigo Owl to explore the mantra "I trust myself. My body knows what to do" the emotion of tired, and more, with printable stories, crafts, games, and activities that playfully teach kids essential social-emotional skills.
A perfect addition to your Calming Corner or Time-In ToolKit, the Time-In Activity Book features familiar characters and imagery your children will recognize from their other favorite GENM toys.
New issues delivered to your inbox every month with a 6 month subscription. This is a digital product, nothing will be shipped.
What's In My Time-In Activity Book?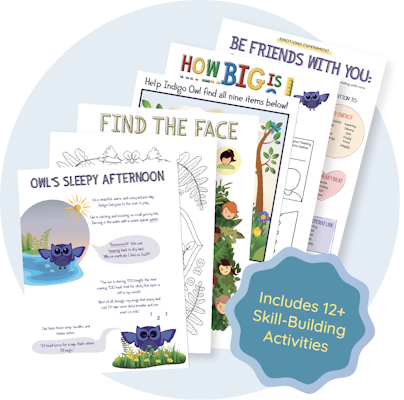 Social-Emotional Learning Games For Kids 3-6+
Stories, Coloring Sheets & Puzzles
Feelings Games & Experiments
Movement & Breathing Exercises
Digital product, nothing is shipped.
---
15-page printable PDF, 8.5x11"
---
For Kids 3-6+
---
For Individual Use Only
---
What Our Customers Are Saying
"My daughter loves her time-in activity book! She needs some help with her emotions and she would often refuse many coping strategies, but she loves to use this book when she needs some help to calm down."
— Valiantsina Z.
"This came at a perfect moment when my son needed some extra support (that this gives in a super appealing way)! He was so excited that he wanted to do all the activities in one go, but we did it over 3 days. He especially loved that the activities were all with his "Feelings Bear" that he loves. Thank you always!"
— Gabrielle W.
Together We Are Raising An Emotionally Healthy World