Enhance your calming corner with this interactive 20x30" Calm Corner Poster, a key element in our internationally-acclaimed Time-In ToolKit®. Designed to guide children in emotional regulation, this poster guides children through identifying emotions before directing kids toward one of 12 sensory-based calming strategies.

Ideal for both schools and homes, this calming corner poster is one of 6 Calm Down Corner Posters and Emotional Regulation Posters in our Time-In ToolKit collection. Teach children essential social-emotional skills with confidence guided by our calming strategies posters, online community support, and guidance.
Money-Back Guarantee
Created By Experts
Free Shipping $50+
"Emotional intelligence is the #1 predictor of a child's future success and happiness" - Yale, Harvard, Columbia University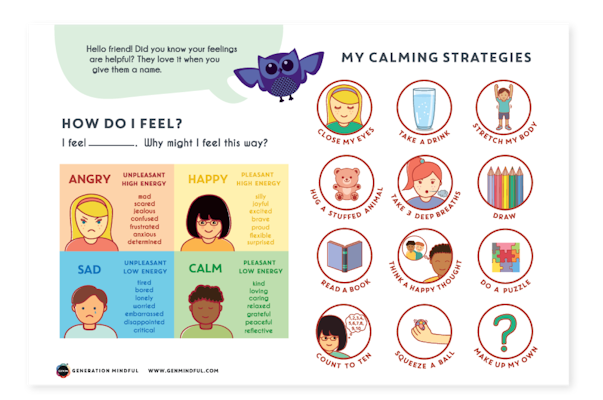 My Calming Strategies Poster features:
4 mood groups - Happy, Sad, Calm, Mad/Scared, with list of emotions in each group
12 calming strategy suggestions including make up your own
How these emotions feel in our bodies (pleasant/unpleasant, high/low energy)
Size: 20" x 30"
---
Paper: 10 mil, fingerprint resistant gloss.
---
For kids 3 to 10+
---
Worldwide shipping available
---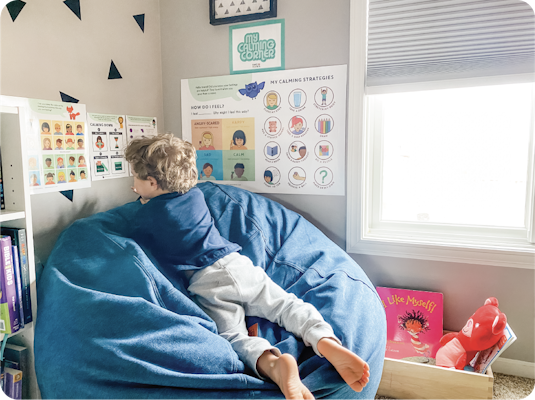 Trusted by 500,000+ parents and educators in 90+ countries
Create a Calming Corner to grow your child's emotional intelligence
Make learning about emotions fun with skill-building games
Nurture your child's resilience, confidence, and kindness
Prevent tantrums and meltdowns before they start
What Our Customers Are Saying
"This morning while getting ready for preschool my 4-year-old kept saying he didn't want to go and was refusing to get ready. I was starting to lose my patience but saw our Calming Strategies chart on the wall. I asked my son what he wanted to do to feel more calm. He chose to squeeze a ball. So we did it together and both calmed down! Then we were then able to finish getting ready and he brought the ball in the car to squeeze on the way to school. Thank you Generation Mindful!"
— Allie D., Verified Buyer
"I have been working with my 3-year-old on regulating herself and her emotions. She loves going to the wall and picking a calming strategy even when she's really upset or I can remind her to go to her wall. She has since been able to identify more emotions in others. It has helped our communication and she can tell me what she's feeling and what she may need from me or just a minute to herself. I definitely recommend it."
— Angela, Verified Buyer
Together We Are Raising An Emotionally Healthy World