Make noticing and naming emotions a fun, daily habit with a laminated feelings journal!
The My Feelings Journal helps children recognize, understand, and label facial expressions and feelings while learning about the four mood groups of happy, sad, calm, and mad/scared.
Children as young as 3 can practice noticing and naming their feelings three times a day using this two-sided reusable wipe board for building emotional awareness. The My Feelings Journal promotes self-awareness, gratitude practices, and makes learning about emotions fun! Just mark, wipe, and use again week after week!
Add a Feelings Journal to your SnuggleBuddies Emotions Plush order or use with your Time-In ToolKit!
Each order comes with (1) two-sided 8.5x11" laminated poster with dry-erase marker.
Money-Back Guarantee
Created By Experts
Free Shipping $50+
"Emotional intelligence is the #1 predictor of a child's future success and happiness" - Yale, Harvard, Columbia University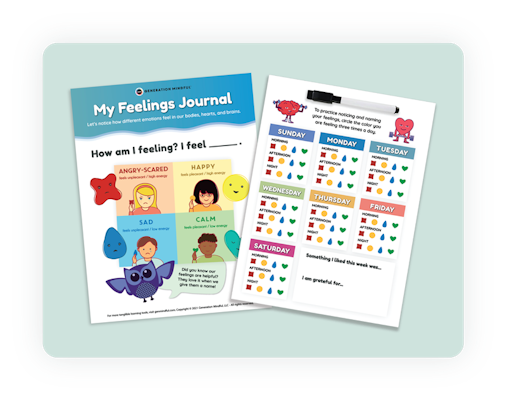 The My Feelings Journal helps children:
Learn to identify the 4 main mood groups of happy, sad, calm, and mad/scared
Make noticing and naming feelings a daily practice, leading to more emotional intelligence and fewer tantrums!
Develop gratitude and self-awareness skills
Track emotion patterns week after week
---
Bonus gratitude section
---
Size: 8.5" x 11", two-sided
---
Paper: 10 mil, laminated finish
---
For kids 3 to 10+
---
Worldwide shipping available
---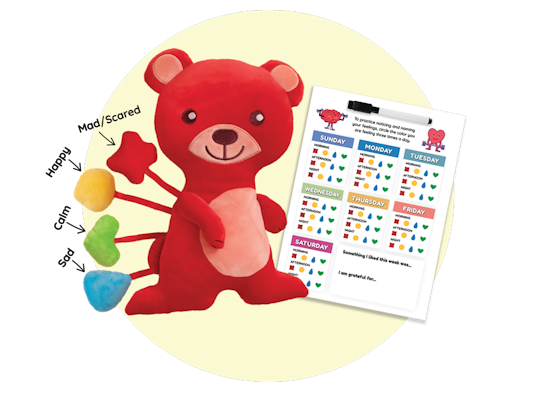 Trusted by 500,000+ parents and educators in 90+ countries
Use your Feelings Journal with a SnuggleBuddies Emotions Plush!
Learn to label and manage emotions
Prevent tantrums and meltdowns before they start
Nurture your child's resilience, confidence, and kindness
What Our Customers Are Saying
"I can remember struggling to get my daughter to talk about anything. I would ask her what was wrong, and she would curl up in a ball. Now she just runs to her poster and points to what she is feeling. It has completely changed the way we communicate. We are closer and I am more able to address her needs, because she now has a voice."
— Heidi E., Verified Buyer
"The children love these, and they have all benefitted from understanding their emotions better. They are more able to name what's going on "inside", when feeling big emotions. Then we can work our way to a better understanding. Also wonderful for just being in the moment when we feel good about life as well."
— Michelle T., Verified Buyer
Together We Are Raising An Emotionally Healthy World