In a nook in the back near the teacher's desk, a cozy, safe place exists. It is a place to explore feelings. A place to regulate. A place to take a break and just be.
Welcome to Emily Brown's preschool classroom.
Emily is a teacher dedicated to helping her students learn about, notice, and practice their emotions.
"I used to teach kindergarten but I felt like I was unable to teach the academics. My students were lacking the ability to notice, name, and tame their emotions. This is why I switched to pre-K - to help students prepare emotionally. After all, emotional intelligence helps academic intelligence, too."
Lined with Generation Mindful's Time-In-ToolKit@ posters, Emily created her classroom's Calming Corner.
"I hung a mirror next to the 32 Feelings Face Poster so that the students could study their faces and then match their faces and the emotions they are feeling inside their bodies to those on the poster. I hung the Calming Strategies poster, too. I set up a cozy space with Orange Fox, sensory tools, books, and a blanket my friend made that says 'It's okay to feel your feelings."
Calming Corner Teaches Students About Emotions
Emily shared that she introduced her classroom Calming Corner by teaching one of GENM's leading mantras: Mistakes help me learn and grow. "We colored the mistakes help me learn and grow worksheet. We talked about how mistakes were safe and that sometimes we need time to calm down our bodies."
"My kids were loving our calming space, going there when they were mad or sad. But I noticed a funny trend -- they were only going there when they were upset. Some were even faking being mad or sad just to get time in the corner!" she says.
This had Emily relook at the way she was introducing the space to her classroom. "I re-explained that the Calming Corner could be used anytime. Yes, it's great to take a time-in when we are feeling mad or sad but we can also take one when we are feeling happy and calm." She continues, "I wanted them to know that they could go there no matter what their starting emotion was to practice noticing and naming their feelings."
Students are encouraged to visit the Calming Corner in this classroom, one at a time. Emily explains, "Children can go to the center anytime they want," Emily explains. "And before they go to the space, we use the My Feelings Time-In Activity Mat and Card Set. They revisit this activity when they leave the space, too."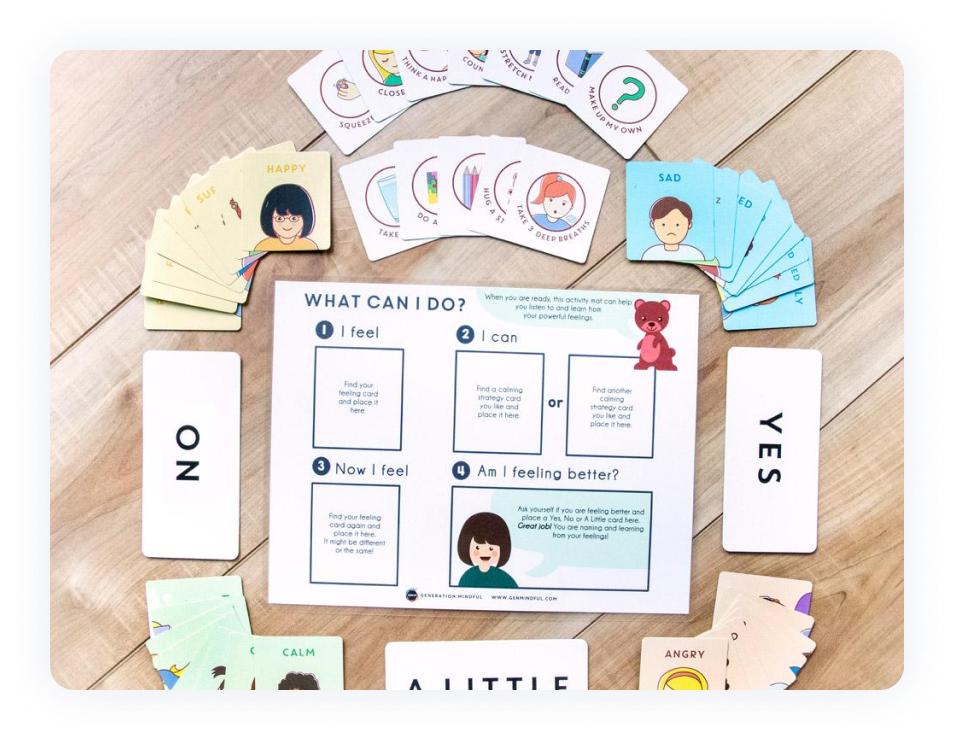 Calming Corner Games Teach Students About Emotions
The Calming Corner isn't the only way Emily teaches her students about emotions. Games such as Generation Mindful's Feelings BINGO are played during class time to help teach about different emotions.
"Feelings BINGO was a hit. They were good at identifying and matching feelings. Now I want to move to the specific characteristics of each emotion and how they feel inside the body. A number of other fun songs, games, and pre-k classroom activities came with my Classroom ToolKit, so I decided to work them into our morning meetings once a week. "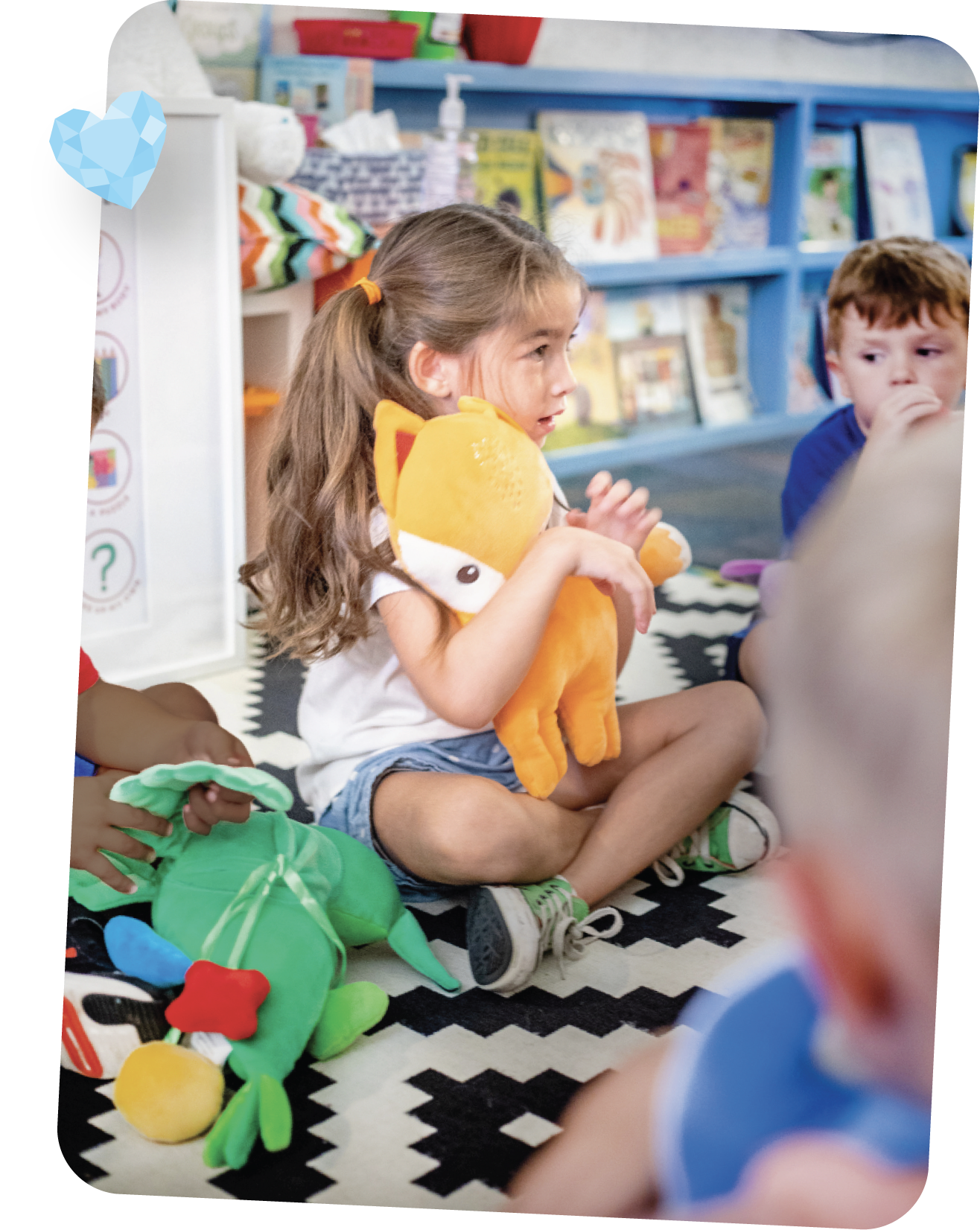 Learning about emotions isn't just for the students, Emily admits. "As an adult, I never thought about emotions as being pleasant/high energy, unpleasant/high energy, and so on. It's helped me as well."
In using the Time-In calming space, Emily's classroom is growing together. Teachers and students alike are creating an environment where feelings are both mentionable and manageable. And they are bridging social-emotional learning into the home as well.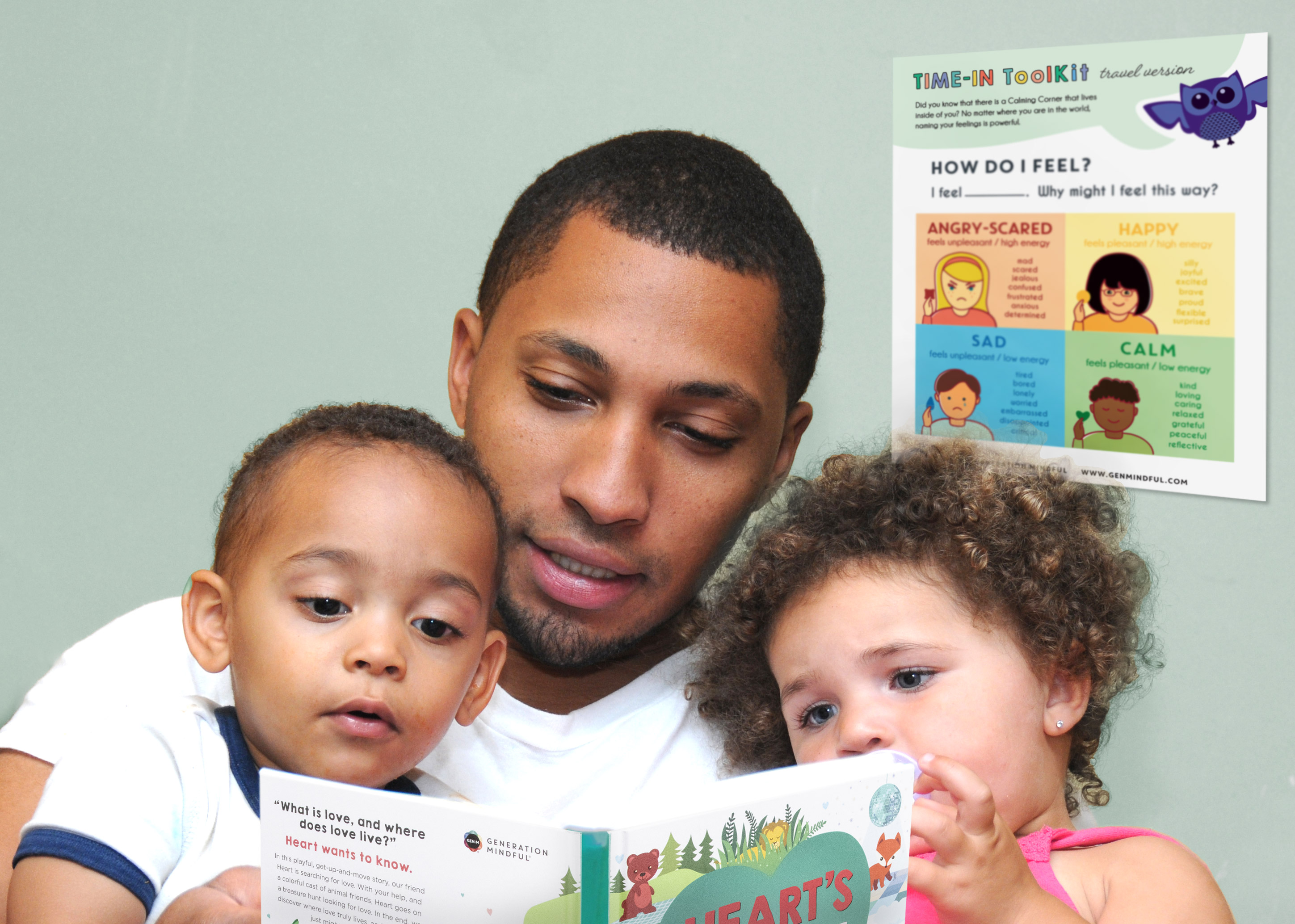 "We invested in a Bridging Bundle so our children could enjoy these same time-in tools at home as well. It's not mandatory, but, so far at least, we haven't had a family say no to the free set of time-in posters and the book. We are excited to see how bridging social-emotional learning into the home using the time-in approach impacts unwanted behaviors in the classroom. I'll keep you posted!"